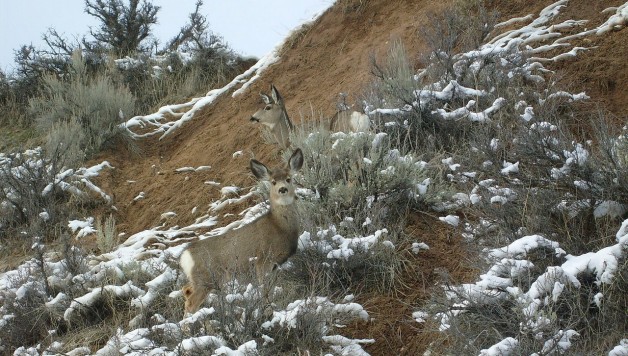 How to Plan the Ultimate Winter Hunting Vacation
Many people all over the country plan and save for annual winter hunting trips. To some people it seems miserable and counter-intuitive but cold weather hunting is favored among a small portion of hunters and for good reason. There are many great travel destinations for hunting vacations. Though the location of your hunting vacation is important, it is not as important as planning for the hunt itself. 
Below are out tips on planning the ultimate winter hunting vacation.
Choosing Cold Weather Hunting
There are many reasons why cold winter hunting is as fulfilling as hunting in warmer weather. Cold weather that deer will be moving around more so your chances of seeing a big buck are higher. If its cold and snowing visibility will be better. You'll spot the subtle differences that make one deer different from another. Snow also means blood trails and foot prints will be easier to see. As long as the snow hasn't iced over it will help to mute and sound coming from your movement.
Best Cold Weather Hunting Destinations
North America has some amazing locations for cold weather hunting but there are some that will forever be considered the best destinations for winter hunting.
Beaverhead-Deerlodge National Forest in Montana is an excellent location if you are looking to hunt bison, bighorn sheep, deer, antelope or elk. The mountainous regions in the state give elk cover while giving hunters like you amazing vantage points.
If you haven't hunted in Alaska already, it's probably on your hunter's bucket list. Prince of Wales Island, Alaska gives hunters an excellent opportunity to hunt for black bears. There is an abundance of them so hunters can be selective and hold out for a big one. The hunt and stalk method along the beaches works best in this location. Be sure to call ahead when planning your vacation because hunts seasons usually depend on whether non-residents use a guide.
Clothing
The first rule of cold winter hunting is staying warm and the best way to do so by is wearing heavy wool clothing. Not only does it keep you warm, it keeps keep you dry. You may also consider fleece clothing as it is good for layering. Make sure to pack extra socks, tops and pants. You need to keep your feet warm and do everything possible to minimize your scent. Every hunter knows that footwear is important so make sure that you purchase the best warm hunting boots, Try breaking them in before you leave for your trip so that you will be more comfortable while out in the cold.
Gear
It is probably safe to assume that this vacation will not be your first hunting experience so you may already have a good idea of what kinds of gear and accessories you need to bring with you. Regardless of your experience, it is crucial to bring along hunting gear such as maps, a compass or GPS, hunting pack, water bottles, orange tape, decoys and game calls, scent attractors and scent eliminators. Some hunters prefer to use the backpack hunting method. And they keep a whole checklist for packing smart.
Hunting Licenses and Information
It is important that you are up to date with the rules and regulations of the state in which you decide to hunt. Make sure you call ahead to the DNR of the location and request any non-resident hunting information, licenses and fees involved for the type of game and season you will be hunting in.