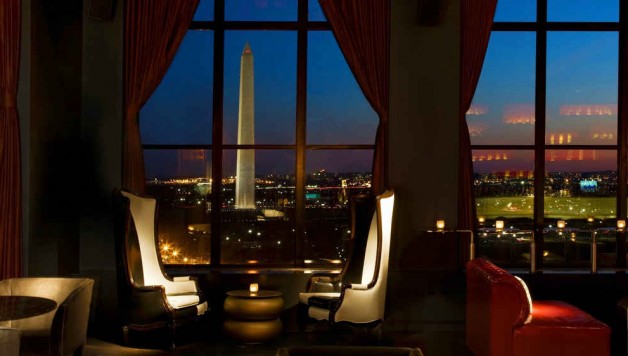 HIP HOTELS: 3 Storied Spots to Stay in Washington D.C.
If you're planning a vacation steeped in history, Washington D.C. is a prime place to do it. Make your accommodations as storied as the rest of your stops. Consider these time-honored hotels for your stay.
Morrison-Clark Historic Inn
The Morrison-Clark Historic Inn is constructed from two historic homes — The Morrison house and Clark house, both built in 1864. The two buildings were nearly identical at their conception, but they took on different features throughout history. The Women's Army and Navy League combined the two buildings in 1930 and turned the property into the Soldiers', Sailors', Marines' and Airmens' Club.
In 1987, the club was converted to the Morrison-Clark Inn with 42 guest rooms. A subsequent renovation in 2013 expanded the property to 114 guest rooms and added a two-story lobby and a lobby bar. The oldest feature on-site, a two-story Carriage House, now serves as a two-level guest suite, ideal for those who want to visit Hipmunk and book a stay in Washington D.C. that's filled with history.
Omni Shoreham Hotel
The Omni Shoreham Hotel opened in 1930 with running ice water, high-speed Westbrook elevators, and an ice rink inside the lounge. Franklin Delano Roosevelt hosted his first inaugural ball here, and the event was such a success that all inaugural balls were held at the Shoreham for the next 70 years.
The hotel's Marquee on the Terrace and famous Blue Room have hosted the like of Aretha Franklin, Judy Garland, Benny Goodman, George Kirby, Pearly Baily, Phyllis Diller, Bob Hope, and others. In the lobby, you can see a piece of hotel stationary featuring The Beatles' handwritten set list, which they put together on their first trip to the United States.
Certain rooms at the hotel have exceptional stories as well. In 1941, Joe McCarthy surprised Joe DiMaggio with a private party in room 609D to honor the player's 56-game hitting streak. Suite 870 is purportedly haunted by a young girl and former housekeeper. Whether you're interested in a chilling visit or a musically iconic destination, you can get it when you book a stay with Hipmunk at the Omni Shoreham Hotel.
W Washington D.C.
If you want to stay in a historic hotel that feels entirely modern, book a room with Hipmunk at the W Washington D.C. This hip hotel is housed in the oldest hotel building in the city, dating back to 1917. This chic spot has hosted the likes of Marilyn Monroe and Aretha Franklin. It's here that Elvis Presley asked President Nixon about becoming a federal agent. The rooftop served as a scene in "The Godfather Part II," and the President's Thanksgiving turkey has trotted across the same spot before being pardoned.
The amenities at the W are designed to cater flawlessly to a modern audience, yet the building is rooted deeply in history. This destination offers the best of all worlds.
Staying in Washington D.C., you can easily find a room that's steeped in history and filled with stories. These hotels offer a few fascinating places to start.
IMAGE SOURCE: marriott.com