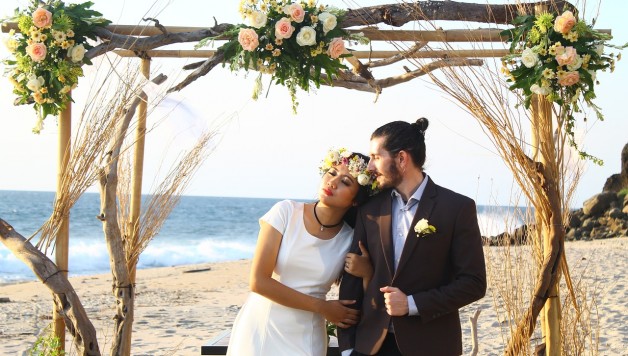 5 Reasons You Should Have a Destination Wedding
People have been getting married for centuries and despite statistics that say marriage is declining, it is still something that happens every day. One of the beautiful things about weddings is that couples can choose to tailor their big day to their personal preference whether that be getting married in a cathedral or cave. One common trend nowadays that is breaking the mold of traditional weddings is choosing a destination away from home. This is likely something couples choose for a number of reasons, most of which are positive. If you're getting married soon and are thinking of having a destination wedding, it's definitely something to keep an open mind about. Here are 5 reasons that you should have a destination wedding.
1. More Intimate
One reason you should have a destination wedding is because it can prove to be more intimate. When you have to fly thousands of miles across the Atlantic, you're able to eliminate distractions and focus on the sentimental aspect of getting married. By choosing to go away and get married, you broaden your options. If you've always dreamt of getting married under a sunset in Hawaii, a destination wedding makes it possible. Also, note that a characteristic of an intimate wedding is it being unconventional, and a destination wedding is just that.
2. Costs Less
Outside of intimacy, a more practical reason that you should have a destination wedding is for the fact that it's likely going to cost you far less. Dominican Republic destination weddings, for instance, could cost anywhere from $1,750 for a wedding package to as high as $10,000. If you have a moderate party of around 60 guests, you could get a decent deal. This saves you the anxiety that comes along with spending all of your savings on a wedding only to start married life struggling financially.
3. Free Honeymoon
People often dream of going to romantic and dreamy destinations for their honeymoon. However, sometimes, after spending thousands on a wedding, they no longer have enough to do so. When you choose to do a destination wedding, you're able to do both, especially if you choose a spot that doubles as a honeymoon too. Examples of locations that would be great to do a ceremony and spend your honeymoon are Seychelles, Thailand, Italy, Greece, or Jamaica. If you do decide to do a destination wedding, keep this in mind when choosing your final spot.
4. Crowd Control
Aside from the mentioned, another obvious reason that a destination wedding could be a good idea for you is crowd control. While some people may like the idea of total strangers coming to their wedding, some people want to share the once-in-a-lifetime moment with people nearest and dearest to them. The reality is that strangers probably aren't going to fly to another country just because you're getting married, meaning you'll only have those who mater around.
5. Complete Wedding Package
One of the most stressful things about a wedding can be organizing and putting it together. There are so many vendors to deal with, people to liaise with and things to pay for. However, when you choose to do a destination wedding, it usually comes as a package This saves you the hassle of having to run around, stress and panic.