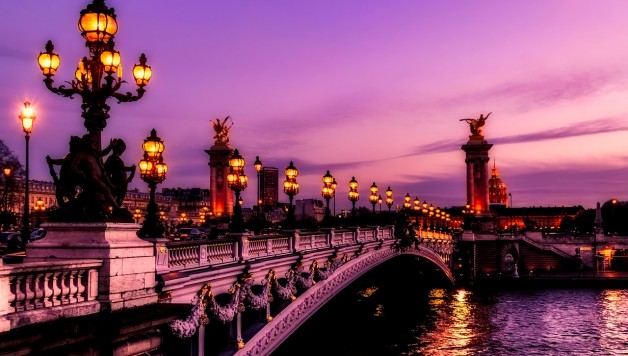 Exploring Paris: The Charming City of Love!
"There are just two places in the world where you can live happy: at home and in Paris."−Ernest Hemingway
No wonder, the mesmerizing city of Paris is one of the most visited destinations in the world. This enthralling city of love and lights is like Disneyland for adults. However, instead of going on electrifying rides and watching parades, you will find yourself walking down cobblestone streets, sipping impeccably brewed coffee and gaping at the spectacular ancient architecture.
Cafes, bakeries, museums, there is so much to explore in this city. Therefore, we have listed some of the must-do things in this French capital.
Visit the Iconic Landmark: Eiffel Tower
There is hardly any person who hasn't heard of Eiffel tower. When in Paris, therefore, this symbol of France should be your must-visit landmark. Located in Champ de Mars Park, Eiffel tower stands tall at about 1,000 feet. Using the lift, you can reach to the top of the tower.
At the first floor (57 meters above), you can learn about the history of this landmark via an interactive show and a fun cultural trail. The second (115 meters above) and the third floor (276 meters) are best known for appreciating the stunning views of Paris.
Nothing beats a panoramic view of this charming city from the top deck of the Eiffel Tower. The panorama view is equally breathtaking if you visit the tower at night.
Take a Serene Cruise on the Seine River
After visiting the most iconic tower, there's nothing more peaceful than floating down the Seine river. With friends, or as a couple, by day or by night, gliding under one bridge to another with a view of the most beautiful monuments, you can discover Paris like never before.
Whether you want to pop-up a bottle of champagne to take in the sublime beauty of Paris or just want to hop on as you please, there are ample cruises out there to suit your taste and budget.All you must do is find the cruise of your choice, hop aboard and set sail on the beautiful river!
Discover the Louvre Museum
Even if you aren't interested in art or museums, you must have the famous Louvre Museum on your to-do list when you visit Paris. The enormous museum of Louvre is one of the most well-known museums in the world.
With over 35,000 pieces of art on display, Louvre is known for housing some of the best pieces of arton Earth−the Mona Lisa, the Venus de Milo!As it is nearly impossible to conquer the collections in a single day, you can browse the collections online before your visit and settle on one or two wings to focus on.
Have A Gourmet Picnic At Jardin Du Luxembourg
The Jardin du Luxembourg garden is an oasis of lush lawns, formal terraces and chestnut groves. This second biggest public park in Paris is well known as fruit garden and adorns some artistic statues and fountains.
It's symmetrical lawns surrounded with clipped hedges, trees, bedding plants and gravel paths, makes Jardin du Luxembourg a perfect spot for having quintessentially Parisian picnic experience on a sunny day.
Experience the Original Gastronomy
When in Paris be ready with these two − an empty stomach and loose pants! As in Paris, there's no shortage of famous French cuisine. Therefore, prepare your palette for foodgasm, while you devour on delicious French treats and dishes. From falafel and lemon tart to chocolate and pistachio escargot, there is something for everyone.
In the morning, you can simply head to the Eiffel Tower by grabbing some goodies and have a French-inspired breakfast picnic when the views are superb.
When in Paris, Travel Safe!
Traveling and exploring a place like Paris can get you all excited. In spite of this, one thing to keep in mind is that being in a Schengen country, medical expenses can get costly. Therefore, to have a worry-free trip and cover yourself against all travel related contingencies, international travel insurance can be of great help.
Having international travel insurance will ensure that in case of any predicaments like accidental injury, baggage or document loss, hotel cancelations, or flight delays, you do not suffer substantial financial losses. These days, you can quickly purchase a good international travel insurance plan from any reputed insurer online.
Thus, explore Paris with relative peace of mind while an international travel insurance plan has your back!