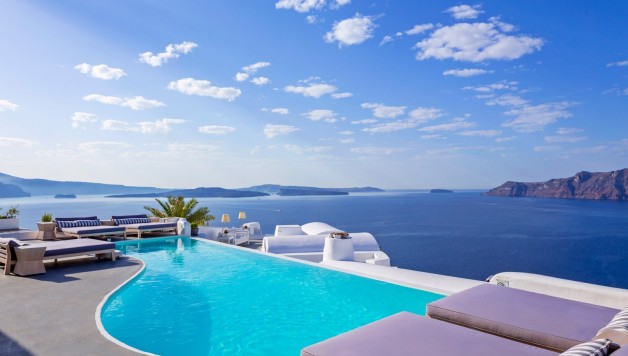 Explore the Most Beautiful Islands of Cyclades
Cyclades is one of the island groups in Aegean Ocean, consisting of more than 30 islands and islets. The name "Cyclades" comes from the Greek word "cycklos" which means "circle". It determines the circle these islands create around the sacred – in ancient Greece – island of Delos and is located at the south-east of mainland Greece.
Cyclades has many beautiful islands. The most cosmopolitan ones are Paros, Santorini and Mykonos.
PAROS
Paros has a lot of beautiful beaches and is visited by thousands of tourists each year. If you visit the island, don't forget to buy or try some of the excellent local products such as wines, cheese, olive oil and figs.
Accommodation
As Paros is a highly touristic island, you will find a lot of different accommodation options, from cheaper to the most luxurious villas and hotels. Some of the best hotels are Paros Bay Hotel at Parasporos, with immediate access to a sandy beach and a large swimming pool, the five star Archipelagos Resort, just outside Parikia with wonderful sea views and a gourmet restaurant and the luxurious Astir of Paros at Naousa and next to the amazing Kolimbithres Beach, with 2 restaurants, 2 bars, swimming pools surrounded by palm trees and a private heliport.
For more privacy and luxury, you can choose one of the many villas that are available for rental on the island.
Restaurants
Some of the best restaurants in Paros are:
Soso at Naousa, with local and Mediterranean cuisine
Blue Restaurant at Chrysi Akti, a beach bar – restaurant with sunbeds and umbrellas just next to the dining tables
Franca Scala at Parikia, a refurbished old mansion with European and Greek dishes
Barbarossa at the Old Port of Naousa, with fresh fish and seafood and a good wine list.
Nightlife
Paros has a rich nightlife and a lot of bars and clubs. Some of the hottest ones are Linardo, a cozy Dance and Night Club in Naousa with a beautiful Cycladic architecture, Agosta also in Naousa, a two story club and bar, which attracts mostly younger visitors and Alga bar in Parikia, with Latin, rock and house music and exotic cocktails.
SANTORINI
An active volcano which had its last eruption at 1950, offers Santorini great views and the special black pebbles you will see at some of its beaches. The island is one of the most famous summer destinations worldwide.
Fira, the capital of Santorini, is located at the top of a huge steep cliff and the houses are built one under the other – like steps. The view is breathtaking but Thera is easily accessible from the backside of the cliff. Please don't take a ride with the donkeys as it has become an international issue of animal abuse.
Accommodation
In Santorini you will also find any level of accommodation in terms of luxury. The most luxurious accommodation is renting a villa and you will find plenty of them all around the island.
Some of the best hotels in Santorini are Katoikies at Oia, a luxury boutique hotel with 2 restaurants and amazing views to the sea, Andromeda at Imerovigli, a spa resort with cozy rooms, suites and villas and Perivolas at Oia, a renovated wine cellar with 20 private houses in 300 years old caves.
Restaurants
You will find a lot of good restaurants at Santorini and the most suggested dishes are fresh fish and seafood. The island has a great production of wines, as grapes cover most of its surface.
Among the outstanding restaurants in Santorini are: Kapari Wine Restaurant at Imerovigli, a fine dining restaurant with a Michelin star and an excellent wine list, Selini at Pyrgos which has won 3 awards from FNL and one Golden Chef's Hat in 2017 alone and Naoussa restaurant at Fira, with traditional Greek cuisine and amazing views to the sea and the town.
Nightlife
Santorini has an intense nightlife with lots of clubs and bars and its visitors are mostly young groups and couples. Tango Bar, Casablanca and Momix are some of its hottest spots for entertainment.
MYKONOS
The favorite Greek island of international and local celebrities offers luxury lifestyle, amazing beaches and crazy parties. Elegance, romance and fun can all be found in big quantities at Mykonos.
Accommodation
Villas in Mykonos are elegant, spacious and lavish and have all the amenities and services VIPs like. What also makes Mykonos Villas the number one choice for celebrities is the privacy they offer to their guests.
A lot of five star hotels can be found in Mykonos and they all compete with each other in luxury and exclusive concierge services. For a really exceptional accommodation, you can make a reservation at Bill & Coo boutique hotel or Cavo Tagoo, both located near Mykonos Town. A third option would be the Mykonian Collection resorts, a group of some of the best hotels and villas on the island.\
Restaurants
For an excellent fine dining experience, choose among Remezzo, Interni or Koursaros. They are all located in Mykonos Town and will give you an idea about what is a delicious gourmet meal in Mykonos!
Nightlife
The hottest clubs in Mykonos at the moment are Cavo Paradiso, Astra and Queen. Join the dancing crowds on the island and don't worry if the morning finds you in a nightclub. This is Mykonos' nightlife!