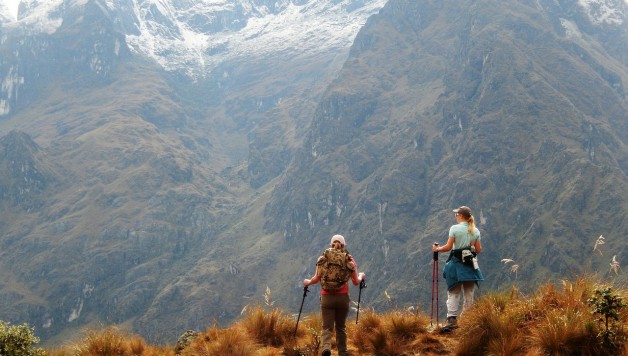 Choosing the Right Inca Trail to Machu Picchu
Peru has plenty of trekking hotspots, but perhaps the most famous is the Inca Trail. It consists of three trails, all of which traverse the Andes and terminate at Machu Picchu. The three routes – Mollepata, Classic and One Day – are all of different lengths and climb to different altitudes. Since the Peruvian government limits hikers to 500 a day, you will likely have to book months in advance. It is therefore useful to take some time to read the following information in order to find out which Inca Trail is right for you.
One Day Trail
The One Day trail offers the chance to experience the sublime beauty of Andes and visit Machu Picchu, all in one day. For backpackers in South America, time is often lacking. The One Day trail is therefore a perfect option if you're in a rush.
It is also a good option if you are new to hiking or don't want to camp out. This trail is the easiest, so anyone of a moderate fitness level will be fine. With a quality pair of hiking sticks, the steps aren't too difficult. You will then be able to spend more time at Machu Picchu in the afternoon, when the crowds have died down.
Classic Trail
This is the most popular trail and usually takes four days, arriving at sunrise on the fourth day. Starting 82 km down the railway line towards Cusco, this is a much longer and more demanding hike. Having said that, it is still accessible to most reasonably fit people, if you're up for a challenge.
Since this trek reaches heights of 4200 meters above sea level, you may struggle with altitude sickness. In order to acclimatize to the altitude, you should spend at least two days in Cusco before setting off. As a result, you'll need to have at least six days available to hike this trail.
Mollepata
This is much less popular than the classic trail and significantly more difficult. It will involve hiking to more remote, unspoiled locations and climbing to an altitude of almost 5000 meters as you make your way across the Inca Chiriaska pass.
If you are an experienced hiker, this will offer steeper paths and more spectacular scenery. However, you will need six or seven days available.
The path you choose to take will be dependent upon time and ability. For people of normal fitness levels, the Classic trail is not too difficult. However, if you are doubting your hiking abilities, limited in time or you don't wish to camp, then the One Day hike is a great alternative. If you are really up for a challenge and want to get away from the crowds, then the Mollepata Trail offers a more demanding, but unforgettable experience.