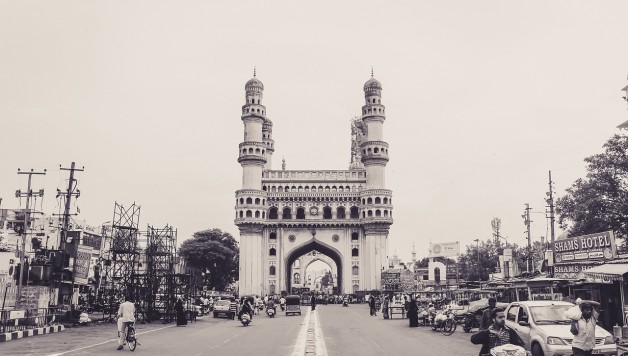 Char Minar: The Charm of the Old City
Old City, Hyderabad, what is it that strikes your mind first when you think of it? Well, apart from the mouth-watering Hyderabadi Dum Biryani! It has to be the evergreen Charminar, of course. Charminar, which signifies four pillars, is the signature monument of Hyderabad representing a great part of the history of the city itself. Built by Sultan Muhammad Quli Qutb Shah several years ago, Charminar remains a very popular and important monument in the whole of India till this day. This sure makes it a must-see location, although, the city of pearls (as Hyderabad is grandly termed) as a whole is a must-see in itself. Charminar is situated in the Old City of Hyderabad and stands around 66 feet tall. From the highest point that you can reach, the view of the whole city is breathtaking, especially at night with the city illuminated as if carefully adorned with lights. The view of Charminar itself is incredible at nightfall.
However, besides the beauty and the intricate details of the monument itself, there are stalls surrounding the place that are also quite well-known. Stalls selling ethnic jewellery, antique items, delicious street food are all around the place. A trip to Charminar deserves your whole day of attention before you can retreat satisfied! You can easily book hotels in Hyderabad online at Yatra and enjoy your stay in the most pleasant way.
Apart from Charminar though, there are a bunch of other popular places totally worth your time while in Old City. Some of them include:
Mecca Masjid
The Mecca Masjid, one of the oldest and largest mosques of India, is said to have been carved from a single piece of granite. This fact only adds to the beauty of this ancient monument. It is also a home for the tombs of the Nizams that lived ages ago while they ruled the state. The stone carvings, gallery, tombs and all the ancient vibe that this place stores make Mecca Masjid a must-stop-by for tourists that visit the city.
Chowmahalla Palace
This is a yet another ancient tourist attraction of the Old City of Hyderabad. Chowmahalla Palace had been the official royal residency of the Nizams back in the time when they were the rulers of Hyderabad State. All the ancient history that is closely associated with the palace makes it for an exciting visit. What's more exciting than closely studying and looking around the place where royals lived and ruled!
Golconda Fort
Last but not the least, there is of course, Golconda Fort. Golconda Fort is another very famous statement tourist spot of Hyderabad. It is a vast area surrounded by enormous forts built ages ago, yet again giving an extremely ancient aura. This place has a massive amount of history attached to it. You can almost feel it in the air! Moreover, of course, we all know of the existence of a vault in here that stored the world-famous Koh-I-Noor alongside other diamonds and gems. Now, how thrilling does that sound!
With Charminar at heart and the other epic monuments alongside, the Old City sure makes it for a splendid experience that has excitement and an air of historic appeal to it! Tempted to have one such wonderful experience already? Want to experience all the ancient and historic aura of the city of Nizams? What do you wait for then, when you can conveniently book hotels in Hyderabad online at Yatra? Book your trip now and sit back while Yatra takes care of all else. Now that planning and traveling have gotten this easy, pack your bags and get ready for your little adventure instead of calming your inner travel-bug down!