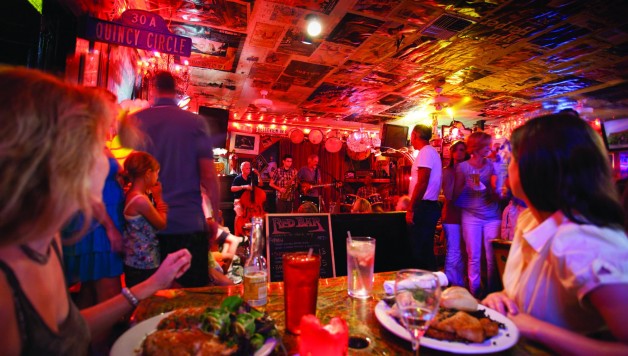 3 Best Hole-in-the-Wall Restaurants in Destin, FL
Although Destin caters to families and kids who aren't necessarily feeling adventurous when it comes to food, don't worry. Destin still has plenty of options for the self-proclaimed foodie. What makes the city even more interesting is that the best restaurants hide among the glitz, glamour, and neon lights of the huge, corporate eateries along U.S. 98. With an interesting mix of influences and some of the freshest seafood you'll ever have, these hole-in-the-wall restaurants deserve inclusion on your to-do list.
The Red Bar
Located in an old general store just east of Destin on US Highway 98, the Red Bar is a local favorite featuring late-night eats, drinks, and live music. A red glow permeates every corner of the room when you walk in, but it provides an interesting ambiance and won't make you feel like you're under a giant heat lamp.
Seafood is the highlight of the menu here, with crab cakes, jumbo shrimp, and the grilled fish sandwich taking center stage. Pair your entree with a signature cocktail, an ice-cold beer, or a heaping side of onion rings. The Red Bar provides delicious comfort food you won't find just anywhere in Destin.
Burrito del Sol
One of the newcomers to the Destin dining scene, Burrito del Sol is a taco and burrito joint serves up fresh fish, steak, and chicken that blend harmoniously inside a shell or tortilla. Started by two brothers in 2012, the restaurant was initially one of Destin's only food trucks until it grew successfully into two locations. The secret to the success is that everything's made in-house, from the chips to the marinades to the salsa. When you top it off with one of their local craft beers and sit outside to soak up some sun, you might enter a food coma.
If you want to eat here, make sure to choose a Destin hotel that's close to the restaurant to curb your appetite and lethargy.
Vin'tij Wine Boutique & Bistro
Combining a progressive wine program with a menu unlike any other, Vin'tij Wine Boutique & Bistro is a unique and overlooked gem in Destin. Started by two friends who shared an affinity for fine wines and fresh foods, Vin'tij is perhaps the only place you can find wine flights. These flights offer three refreshing wines from locations around the world, including Napa, Argentina, Italy, Oregon, Spain, France, and New Zealand. Paired with entrees such as mango ginger roast wild Alaskan sockeye salmon and griddled beef tenderloin meatloaf, you'll feel like you're in the culinary center of a major city.
If you still aren't sold on Vin'tij, you can't ignore the recommendation of Emeril Lagasse. On his show "Emeril's Florida," Emeril gave his compliments to Vin'tij Wine Boutique & Bistro's chef, complete with his famous "Bam!" Few restaurants can boast such an accolade.
With its chain restaurants and family-friendly establishments, Destin doesn't look like a foodie's paradise from the outside. But when you really scratch beneath the surface, you'll find that its mix of hole-in-the-wall restaurants matches any other foodie city of its size.