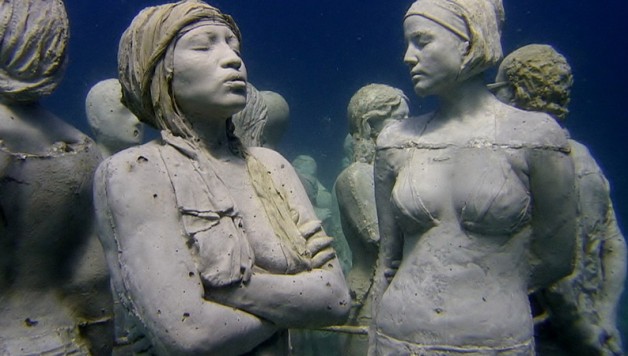 Alternative Cancun: A Guide to the Resort's Unusual Spectacles
Cancun is one of Mexico's premier holiday destinations, but if you thought it was just a spot for big resorts and the standard all inclusive fare, you'd be wrong. While there's plenty of that on offer, there are some great alternative attractions if you're looking for something a little different.
We've put together a selection of the best unusual things to see and do in Cancun.
Cancun Underwater Museum
Cancun is home to the world's first underwater sculpture park, with more than 450 life-sized statues dotted around on the seabed at depths of between 4 and 9 metres. The installations were created by British artist Jason deCaires Taylor and show people in everyday situations, such as riding a bike or working at a desk. The artistic eco project also promotes coral growth, which only serves to make the sculptures more unique and interesting.
The best way to discover this fascinating collection of artworks is to scuba dive, as this will allow you to see not only the sculptures themselves close-up, but also the corals and other marine life that now cover many of the statues.
As the pieces are all in relatively shallow water, you can explore them by snorkeling if you'd rather not don scuba gear.
Parque de las Palapas
Spending some time in the Parque de las Palapas is a great way to meet some of the locals and enjoy a slice of Mexican culture. This large square in Cancun's centre is a fantastic place for families, as there are always interesting street performances taking place that will captivate children and grown-ups alike.
The evenings are the best time to visit Parque de las Palapas, as there are usually musical groups playing everything from jazz and salsa to local Caribbean tunes, while you can grab a Mexican snack (like tacos or tamales) from the open-air food court.
Go bird watching
Cancun is surrounded by vast lagoons, tropical forests, mangroves and pristine islands that are perfect for bird watching. In fact, you can begin looking out for feathered creatures as soon as you arrive at the airport, as the runway and terminal are located in the midst of the forest.
However, one of the best spots if you're keen to observe some of the local wildlife, is the delightful Isla Contoy, which is situated off the coast of Cancun about 30 km to the south of Isla Mujeres. It was declared a national park in 1998 and is one of the most important seabird nesting sites in the Mexican Caribbean.
Among the species you can see here are pelicans, frigate birds, cormorants, flamingos, storks, cranes and spoonbills. It's worth noting that visitors to Isla Contoy are limited to 200 per day to help protect the ecosystem, so it's advisable to look into the availability of trips ahead of your holiday.
Visit the Tequila Herradura Sensory Museum
This is a relatively new visitor attraction in Cancun (having opened in 2010) and it's been designed to educate travellers about how the famous Mexican liquor is produced, as well as give you the chance to sample some.
Tequila is made from distilling agave juice and when you book a tour of the establishment, you'll smell and taste this raw ingredient, before being walked through the following stages of production. The amount you pay to enter the attraction will depend on which kinds of tequila you want to sample (as you'd expect, tasting the premium brands will cost you more).
So, if this has convinced you that there's more to Cancun than just all inclusive resorts and beaches, check out the deals on holidays to the destination on this website.
Photo source: Blueherenow.com